Parental involvement in a child's education has been shown to have a positive impact on their academic success. Studies have found that children with involved parents tend to have higher grades and test scores, better school attendance, and more positive attitudes towards school. In addition, parents who are involved in their child's school often report feeling more connected to the school community and better able to support their child's learning.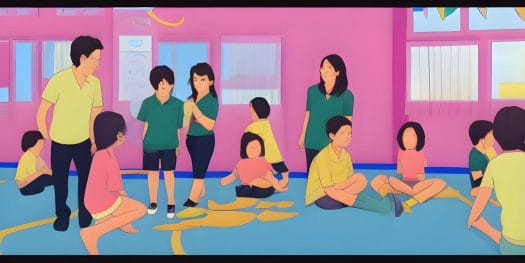 So, how can you get involved in your child's school and maximize your impact as a parent? Here are some tips:
Volunteer at the school.
Volunteering at your child's school can be a great way to get involved and show your support for their educational development. Many schools rely on the help of parent volunteers to assist with a variety of tasks, such as reading to students, assisting with special events, or chaperoning field trips. If you are interested in giving back to your child's school, contact the teacher or school office to find out what opportunities are available. By contributing your time, you can help enhance the learning experience for all students and become a part of the school community. Volunteering is a rewarding experience and can provide an opportunity to learn more about your child's educational journey.
Attend school events and meetings.
There are many benefits of attending school events, such as parent-teacher conferences, open houses, and performances, for both parents and their children. Attending these events is an excellent way to get involved in your child's education and to build relationships with school staff and other parents. Parent-teacher conferences provide a great opportunity for parents to ask questions about their child's progress, get feedback from their teacher, and provide input into their child's learning plan. Open houses allow parents to get a glimpse into their child's school environment and to learn more about the school's curriculum, staff, and facilities. Finally, school performances are a great way to show support for your child's efforts, celebrate their accomplishments, and experience their talents.
Partner with your child's teacher.
Establishing a strong partnership with your child's teacher is essential for ensuring their success in school. As a parent, you can provide additional support for your child's learning by offering to help with schoolwork at home, communicating regularly about your child's progress, and asking for feedback on how you can support your child's education. Regular communication with the teacher can provide insight into your child's learning, helping to identify any areas of weakness that need to be addressed. This can also help to build a strong relationship between both parties, leading to a better understanding of your child's individual needs and a more successful learning experience.
Get involved in school-based decision making.
Engaging parents in the decision-making process is increasingly becoming an important part of running a successful school. Many schools have committees or organizations such as school councils and P&Cs that give parents the opportunity to provide input on school policies and initiatives. Joining one of these committees is a great way to get involved in your child's education and help shape their school environment. All parents should consider participating in a school council or P&C to become part of the process and ensure that the best interests of students are taken into account when making decisions. It is also an excellent chance to build relationships with other parents and school staff, resulting in an improved school experience for everyone.
Support extracurricular activities.
Encouraging your child to participate in extracurricular activities can provide many benefits. Such activities can help your child develop new skills, make friends, and feel more connected to their school community. Examples of extracurricular activities could include sports teams, music lessons, art classes, or even joining a club. Participating in these activities can help your child to not only build relationships with their peers, but also to gain important skills such as teamwork, communication, and problem-solving. Additionally, engaging in extracurricular activities can help to provide a sense of accomplishment and confidence in your child's abilities. In order to ensure the best experience for your child, be sure to research any groups or activities that you are considering.
By getting involved in your child's school, you can help create a positive and supportive learning environment for your child. Remember to communicate with your child's teacher and other school staff, and be open to collaboration and feedback. Together, you can work towards your child's academic success.