Being an involved parent in your child's education can have tremendous benefits. Family involvement in primary education is essential for a young student's academic, personal, and social development. Studies have shown that parent and/or family involvement in a child's education increases academic performance, decreases absenteeism, and improves self-esteem and behavior. With the right strategies and resources, parents can be empowered to support their child's learning and excel in school.
In this article, we will explore the impact of parental involvement in primary education, from how it can help develop a child's academic and social skills to strategies for getting involved. We will discuss how parental engagement can benefit your child's educational journey and how you can be an active participant in their learning process. Finally, we will look at the various ways you can support your child both at home and using other resources.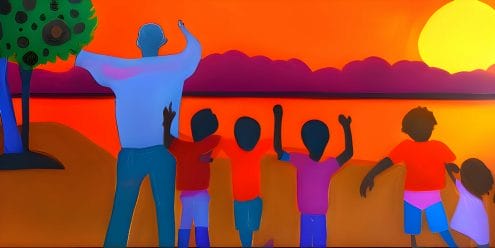 Here are some ways you can get involved and support your child's primary education:
Communicate with your child's teacher.
Establishing a positive and productive relationship with your child's teacher is an essential part of ensuring their academic success and providing the best possible learning environment. It is important for parents to stay informed about their child's progress, and to be able to reach out to the teacher with any questions or concerns they may have. To that end, attending parent-teacher conferences and participating in school events are great ways to build a positive relationship with your child's teacher and stay informed of their progress. Additionally, parents should feel free to contact their child's teacher with any questions or concerns they may have, either via email or phone, or even through an in-person meeting if necessary. By doing so, parents can be assured that their child is on track academically, socially and mentally and can address any concerns early on at any point in time.
Help with homework.
Homework is an essential component of your child's education, helping them to develop their knowledge and skills. To ensure successful completion of homework tasks, it is important to encourage your child to work independently and establish a regular routine for completing their assignments. However, it is also beneficial for parents to be available to provide assistance if needed. This could involve discussing the assignment with your child, helping them develop an understanding of the material, and providing guidance on the best strategies for completing their work. It is also important to provide your child with a comfortable and quiet workspace and to ensure that they have the necessary tools and materials to complete their tasks. By providing guidance and fostering an environment of learning, you can play a major role in your child's success
Get involved in school activities.
There are numerous opportunities to get involved in your child's school and education. Participating in such initiatives can provide a great opportunity to stay connected with their educational journey and show your support. Volunteering in the classroom, joining the Parents and Citizens Group (P&C) and attending school events are just a few ways to get involved. By doing this, you can ensure that your child is receiving the best possible education and have the chance to be a part of the school community. Volunteering in the classroom is a great way to get involved and support your child's teachers and fellow classmates. As a P&C member, you can help the school raise funds for necessary resources and contribute to the decision-making process for the school. Attending school events allows you to develop a positive relationship with the school and educators which can help ensure that your child's educational needs are met, however don't get too involved in politics or making decisions which benefit only your child.
Support your child's learning at home.
As a parent, there are several ways you can support your child's learning at home. The most important of these is to ensure that your child has access to a quiet, comfortable workspace and to make sure that they dedicate enough time to their studies. You can further promote their learning by reading with your child, as this helps to improve their literacy skills and provide them with a deeper understanding of the material. Additionally, it's important to provide your child with opportunities to explore their interests outside of the classroom, such as offering them books, activities, and educational games. This can help to spark their imagination and expand their knowledge. Finally, it's important to provide your child with positive reinforcement for their hard work and dedication to learning and being the best they can be.
Consider seeking support if needed.
If your child is struggling academically or socially, it is advisable to seek support from the school or a professional. The school principal and staff can provide resources and support to help your child succeed. Additionally, the school may have an educational psychologist or social worker who can provide specific recommendations or intervention. If your child has a disability, there may be additional support and accommodations available. These accommodations may include modifications to the curriculum, additional time for tests and assignments, and specialized instruction. The school staff can also provide referrals for professional services, such as counseling, tutoring, or other support services that can help your child succeed. It is important to consult with the school staff and/or a professional to develop an individualised plan for your child.
By getting involved and supporting your child's education, you can help set them up for success in primary school and beyond. Remember, every child is different and it's important to find the approach that works best for your child and your family.